Broker/Consultant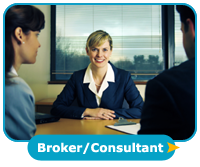 At HR Web Connect, we are committed to the broker and consultant community. We recognize employers turn to you for product advice and administration solutions. Our objective is to help strengthen your client relationships through expanded product choices and superior service, thus helping your business grow.
When you offer HR Web Connect to your clients, you will be providing a unique service. With our secure communications portal you can expect to:
Solidify client relationships
Overcome administrative challenges and cost concerns
Give your client flexibility to expand their benefit offering
Create a customized portal for each client
Provide unequalled customer service
Drive additional revenue
With HR Web Connect you gain an edge over the competition. We provide a superior product and service to employers, but our relationship is with you. We recognize your success is key to our success and we set our prices accordingly.